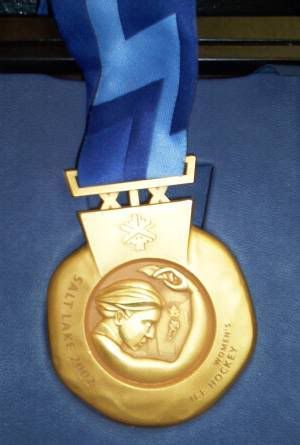 Entering the final day of Olympic competition there's only two events left. One of them is Men's Ice Hockey. How would have thought that the US team would have made it this far? Not many. In fact, a few newspapers felt that the US team would make a good showing in the opening games and then go home early. Well, not so!
As any member of HockeyNation we've been following this tourney very closely. Women's Hockey was not as exciting a tournament but the final was both exhilirating and heartbreaking. The women faced many opponents that were no competition whatsoever and to make it to the gold medal game was almost a given for the women. They lost but won a silver medal. It's sad to think about the process. When you win a bronze medal, your last game was a win. When you win a gold medal, your last game is a win. When you "win" a silver medal, your last game is a loss. It's almost sad to think of that huge accomplishment in terms of defeat but I'm sure that's how the US Women's Ice Hockey Team felt. Almost like, "it's great to be here but we still lost." I feel badly for them. I know I shouldn't but I still do.
During this tournament the Men's US team has been undefeated. That's a good sign. They are the underdogs. Another good sign. They beat Canada once during these Olympic Games in a game that was viewed by more people than any Stanley Cup Final...EVER!!!! I think that's a good sign!
Men's Hockey gold medal game is today. We will play Canada for the gold. Since we were the number one seed we, technically, will be the home team. I'm sure it won't feel like a home game for our boys though! The Canada Hockey Place will be a sea of red for sure. Here's an interesting Olympic hockey fact. The US team has won gold in the last two Winter Games ending with a zero (there have only been three). 1960 and 1980. Coincidence? I think not. Both of those were won over teams wearing red. Coincidence? I think not. The US won the 17-U and World Juniors gold medals this year...both over Canada. Coincidence? I think not.
So today, we will gather in front of the big TV along with the rest of HockeyNation with our Buffalo (Sabre) Wings and our American Lager and cheer USA!!!! USA!!!! USA!!!! Except for my son, who is convinced that one day he will play in the Olympics for Team Canada. Ah, the innocence of a six year old!